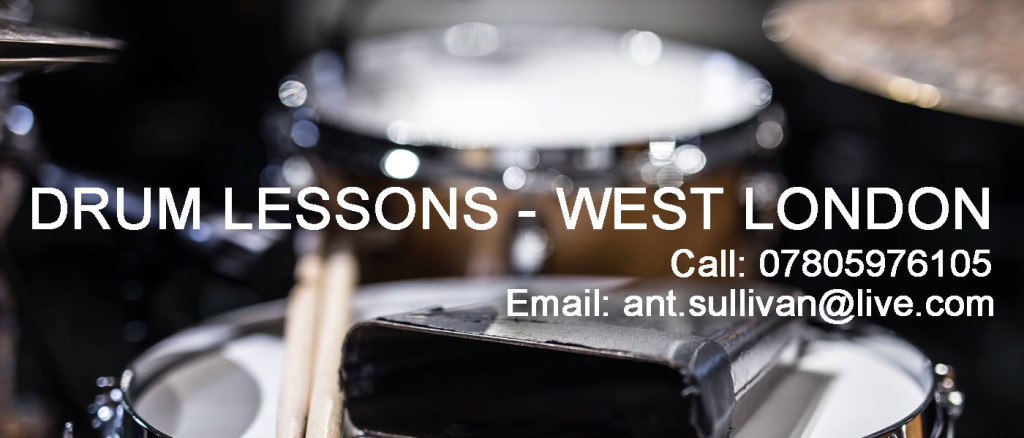 'Qualified drum teacher offering private drum lessons at fully equipped studio in West London. Home tuition is also available, all ages and abilities welcome!'
No matter if you are an absolute beginner and learning to play drums for fun, or if you are more experienced and wanting to take your skills to the next level; my drum lessons are tailored to each student in order to maximise your learning experience. My main objective is to give you the tools you need in order to progress on the drums. Topics covered during the lessons can vary depending on your goals, but can cover:
–       Grooves
–       Fills
–       Reading
–       Styles
–       Techniques
–       Concepts
–       Timing
–       Grades 1 – 8
–       Learning songs
---
Drum Lessons
Beginner Drum Lessons:
At first learning the drums may seem daunting, however, within your first lesson, I can guarantee that you will be familiar with the standard drum kit set-up and able to play your first beat. We will also look at posture, how to properly hold drum sticks and how to incorporate drum rolls into your playing. We can then learn how to apply drum beats to music and play along to your favourite songs. Each lesson will build upon your previous lessons and the exercises given to you will be written down and available for you to take home and practice in your own time.
Intermediate – Advanced Drum Lessons:
My intermediate – advanced lessons are designed to help you achieve creative freedom on the drums, ultimately leading to you being able to play whatever you wish. In order to reach that stage, we will look at aspects of drumming such as: four-way coordination, advanced stick control, applying rudiments and paradiddles to grooves and fills, metric modulation, linear and layered application and how to apply all of these aspects within musical settings. 
Graded Exams:
If you are wanting to take your drumming exams, I teach from the Rock School syllabus. Rock School grades are designed to bring the fun back into the music examination process. By studying the Rock School syllabus you can truly measure the progress throughout your lessons, which, in return can bring great reward and give you the ambition to keep striving to improve on the drums. Each graded exam is split into different section including: play along tracks, techniques, rudiments, sight reading, ear tests and general musicianship questions. Although this may sound daunting, it really isn't, and I will be there to help you every step of the way.
---
Why take drum lessons?
In a world where all the information you need is at the click of a button, you might be questioning if taking drum lessons is entirely necessary. In short the answer is 'yes'. While checking out different drum lessons online is a great way to learn, it is not the most effective, this is especially true for beginners.
When learning to play the drums you must first learn the fundamentals, then gradually build upon your existing knowledge. When taking drum lessons with me, I will give you tasks and exercises during each lesson that will build upon your previous lessons, ultimately leading to you becoming a better drummer. All of the material that is covered will be written down and given to you to take home and practice in your own time.
Along side being one of the most fun instruments to play, drumming also has a number of health benefits – Studies have shown that drumming can reduce stress and anxiety, boost your immune system and help you become more creative. Drumming can sometimes be quite a physical instrument and aids in keeping fit. Here is a great article by the BBC demonstrating that pro rock drummers are as fit as premiership footballers – read article.
---
Location
I have a fully equipped teaching studio in West London (See map). Home tuition is also available depending on location.
Transport:
Closest train station is Acton Central.
Good bus links from Acton and Shepherds Bush, 207 runs regular along The Vale. 
Free street parking on Stanley Gardens.
---
Lesson Pricing:
One to one lessons – £25 per hour
One to one lessons – £17 per 1/2 hour
One to one home tuition – £30 per hour (depending on location)
Before booking a drum lesson with me, you are welcome to book a free 15 minute consultation where you can come to visit my teaching studio, have a chat about your goals and how I can help you achieve them. Alternatively, we can speak directly by telephone or email.
If you wish to book a drum lesson, please email ant.sullivan@live.com or tel 07805976105
Fully CRB checked
CV available upon request.
---
Testimonials:
Przemyslaw Iskra – "Fantastic teacher, always challenging me but still so patient 🙂 Highly recommended!!!"
Jo Kapetaniou – "I couldn't have asked for a better teacher. I had never in my life played drums before and by the end of my first lesson I was able to hold a beat (I think) 😀 Simply awesome! Thanks Ant! :)"
London Drum School – "Great teacher, great drummer! We highly recommend drum lessons with Ant Sullivan."